Lara Larsen – Naughty In Chastity Belt

Everyone knows by now that I love latex. Wearing it pretty much every day and parading myself here for you is a bit of a giveaway, right?! *giggles* But some people have asked what my favourite piece of latex clothing is. I have to say I love wearing leggings because they are so simple and versatile. I can team them with more "normal" clothing or with a latex top for a full rubber look, and they're perfect to wear around my home, going shopping, going to a gig … and, nice and tight, they show my sexy ass for people to look at A little latex mini-skirt is also really versatile, teaming it up with some sexy sheer tights and heels, or dressing it down with some Converse or my bright red trainers. Not quite as practical as the leggings, but I don't mind the restriction of a short skirt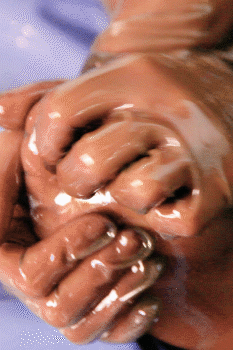 But if I had to choose my favourite, I'd have to pick a sexy latex catsuit. The all-in-one full coverage of rubber not only feels fantastic on my body, but it is also incredibly versatile in so many ways: throw on a cosy jumper and it works like leggings; pull on some jeans and sneakers and it's a cool casual top; slip my feet into some killer heels and add a leather jacket and it's a brilliant outfit for a bar or a club; pull on my warm winter coat and some boots and I have an outfit for Christmas shopping!
But what I really love is the full feeling of rubber all over my body, hugging every inch of me, sticking to my skin, creaking when I move … it gives me goosebumps just thinking about it.
So when I got to try my new Latexa latex catsuit I was so excited because this one is a special design just for me. As a special all-in-one suit, this design has no zip at all and attached gloves and socks. For a latex slut like me, this is the ultimate: not only total coverage in skintight rubber, but getting in and out of it is so tricky that I need someone to help me! Think about it … if no one is here to help me get out of this catsuit, I'm stuck inside it! *giggles* Thankfully, I had my friend with me to help.
MP4 * 546 MB * 00:12:17 * 1920×1080
Related posts